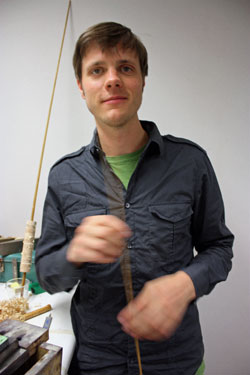 Christofer Eliasson (SWE)
My Precious Place

"The most challenging part is probably the thought process before getting started: what is My Precious? "
What materials have been used?
Bamboo (arundinaria amabilis), for the split cane fly-fishing rod. The rod tube is ammonium smoked Swedish oak, to give it patina. The insert is alder (A. glutinosa.) which grows along the river. The strap is leather. The handle on the rod is cork like the lid in the rod tube. Materials that feel natural to take with me to the river.
What kind of techniques have been used?
The fly-fishing rod is a split cane construction, 6 pieces that are equal triangles glued together in a hexagonal shape. A construction that is equally strong in any direction. The rod tube is made of solid oak, ammonium smoked, glued like a hexagon.
What were the biggest challenges in the process?
The making of the fishing rod, the 6 pieces of tip – each only 0.7 mm in height - need to be glued together and come out straight. This is probably the toughest part in the making, BUT the most challenging part is probably the thought process before getting started: what is My Precious? And getting all my thoughts into one piece, which was aesthetically interesting and attractive to an audience, and true to myself.
Why did you make your piece?
Whenever I feel a bit lost, there is always one place I can return to – if not physically, then in my thoughts. This is a place where I feel harmony and find peace. I feel at home. What I'm talking about is a small river that runs through the landscape where I grew up.
When I was asked to join and heard the "precious" theme, there was no return; I needed to go through the process of making it. The process of making it is what has value to me.
Time spend
I don't know how to count hours. Maybe a couple of hundred hours.
-----------------------------------------------------------
My Precious Place

"Den mest udfordrende del var nok hele tankeprocessen før arbejdet gik i gang: hvad er My Precious? "
Materialer
Bambus (arundinaria amabilis), til splitcane flue-fiskestangen. Røret til stangen er ammoniakrøget svensk eg, for at give den patina. Indsatsen er el (A. glutinosa.) som vokser langs floden. Stroppen er læder. Håndtaget på stangen er kork, ligesom låget til røret, materialer der er naturlige at tage med ned til floden.
Teknikker
Flue-fiskestangen er en splitcane konstruktion, 6 dele der er ligesidede trekanter limet sammen i en hexagon. En konstruktion, der er lige stærk i alle retninger. Røret er fremstillet af massiv eg, ammoniak-røget, limet sammen som en heksagon.
Udfordringer
At fremstille fiskestangen. Spidsen som er i 6 stykker – kun 0,7mm høje – skulle limes sammen og ende med at være lige. Det var nok det sværeste at lave, MEN, den mest udfordrende del var nok hele tankeprocessen før arbejdet gik i gang: hvad er My Precious? Og at få alle mine tanker ned i et objekt, som var æstetisk interessant for publikum og tro mod mig selv.
Hvorfor har du lavet den?

Når jeg føler mig en smule fortabt er der et sted, jeg altid kan vende tilbage til – hvis ikke fysisk, så i tankerne. Det er et sted, hvor jeg føler harmoni og fred. Jeg føler mig hjemme. Stedet jeg taler om, er en lille flod, der løber gennem landskabet, der hvor jeg voksede op.
Da jeg blev spurgt om jeg ville deltage og hørte My Precious-temaet var der ingen vej tilbage; jeg måtte bare igennem processen med at lave den. Processen er det, der har værdi for mig.
Tidsforbrug
Jeg ved ikke hvordan man tæller timer. Måske et par hundrede.