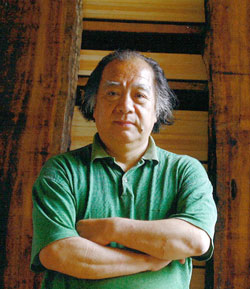 Chuzo Tozawa (JP)
My Precious Spirits

"The world grows and develops, but everything links back to man and woman represented by the two spheres"
Materials
Plane veneer on plywood. Leaf gold on large leafed Japanese magnolia.
Techniques
Ordinary cabinetmaking techniques. "The pyramid" inside the cabinet was gilded before it was gathered.
Challenges
I wanted to hinge the doors with an old Japanese technique, where textile is used. But I didn't succeed, so I used a more ordinary type of hinge.
Why have you made it?
My dad died 35 years ago and my mother 20 years ago. When my dad died I wanted to make a butsudan (a home altar), but I didn't get it done. That is why I have chosen to make a butsudan now.
When you think of the roots of man, the mother and father come first, new life from a woman and a man. Man has come to earth and if you think right back, everything started from the relationship between two people. The world grows and develops, but everything links back to two (the two spheres). The world branches off and grows from the two combinations. My wishes, thoughts as well as power to create the future are in those two spheres, which are simple and minimalist. I would like everyone in the world to remember our roots; that everything in the world develops from the relationship between 2 people. Not alone. That is my precious.
Time spent
3 months.
-------------------------------------------------------
My Precious Spirits

"Verden udvider og udvikler sig, men alt er forbundet tilbage til mand og kvinde, repræsenteret af de to kugler i skrinet"
Materialer
Platanfinér på birkekrydsfinér. Bladguld på storbladet japansk magnolie.
Teknikker
Almindelige teknikker til kabinet. "Pyramiden" inden i kabinettet er forgyldt, før den er samlet.
Udfordringer
Lågerne ville jeg gerne hængsle med gammel japansk teknik, hvor man bruger tekstil.
Men det lykkedes ikke, så derfor har jeg brugt en mere almindelig type hængsel.
Hvorfor har du lavet den?
Min far døde for 35 år siden og min mor for 20 år siden. Da min far døde, ville jeg gerne lave en butsudan (et hjemmealter), men alligevel fik jeg det ikke gjort. Derfor har jeg valgt at lave en butsudan nu.
Når man tænker på menneskets rødder, kommer først mor og far, nyt liv fra kvinde og mand.
Mennesker er kommet til verden, og tænker man helt tilbage, er alt startet fra et forhold mellem to individer. Verden udvider og udvikler sig, men alt er forbundet tilbage til to (de to kugler). Verden forgrener sig og vokser fra de to kombinationer. Mine ønsker, tanker samt kræfter til at skabe fremtiden ligger i de to kugler, som er simple og minimalistiske. Jeg vil gerne, at alle mennesker i verden erindrer vores rødder, alt i verden udvikler sig fra 2 menneskers forhold, ikke alene.
Det er My Precious.
Tidsforbrug
3 måneder