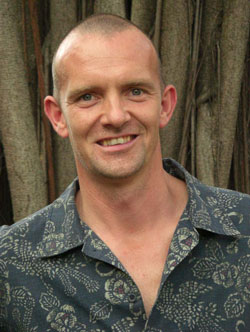 John Bøge
My Precious Cigars
"The design awakes the imagination, and the wind in the tobacco trees gives a wonderful freshness"
Materials
Brazilian cedar (cedrela odorata), Danish yew and walnut
Techniques
The box itself was made without glue. The individual parts are mortised or rabbeted together and then "locked" with small rivets. The box is not surface treated, which ensures that the cigars are kept in a space entirely without synthetic materials. Tobacco trees, patience and fine elbow grease.
Challenges
The largest challenge has without doubt been the design – "the journey" has been very long. I was a bit locked in my choice of materials, but when the word poetry was added to my mind map the horizon looked brighter. The design now awakes the imagination, and the wind in the tobacco trees gives a wonderful freshness.
Why have you made it?
I have tried to make a humidor, which gives the opportunity of exploring the material wood. The commitment found in sitting down with a cigar and a cognac and "having a feel" is important to the soul, I think. Other people, who also discover the concept of wood, will have the same great benefit.
Time spent
Idea, sketches and modelling took forever. The practical work itself took 80 hours.

-------------------------------------------------------------
My Precious Cigars
"Formsproget vækker fantasien, og vinden i tobakstræerne giver en skøn friskhed"
Materialer
Brasiliansk ceder (cedrela odorata), dansk taks og valnød
Teknikker
Selve æsken er samlet uden lim. De enkelte dele er tappet eller gratet sammen og derefter "låst" med små nagler. Æsken har heller ingen overfladebehandling, hvilke sikrer, at dine cigarer opbevares i et rum helt uden syntetiske stoffer. Tobakstræer, tålmodighed og fint knofedt.
Udfordringer
Den største udfordring har uden tvivl været formgivningen - "rejsen" har været meget lang. Jeg var lidt fastlåst i materialevalg, men da jeg fik føjet ordet poesi til mit mindmap begyndte det at lysne i horisonten. Formsproget vækker nu fantasien, og vinden i tobakstræerne giver en skøn friskhed.
Hvorfor har du lavet den?
Jeg har forsøgt at lave en humidor, der giver mulighed for at udforske materialet træ. Det engagement, der ligger i at sætte sig til rette med en cigar og en cognac og "mærke efter" mener jeg, er vigtigt for sjælen. De mennesker, der også opdager materialet træ, vil få samme store udbytte.
Tidsforbrug
Tanke, skitse og modelarbejde tog en evighed. Selve den praktiske udførelse tog 80 timer.