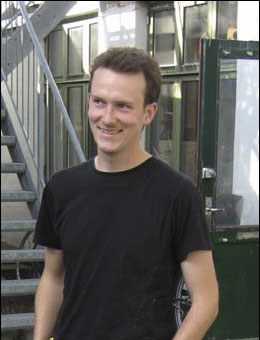 Lasse Folke Pedersen
My Precious Herbs
"The design has undergone several changes, even in the middle of the process changes have been made and parts changed"
Materials:
Serbian larch wood and Rio Palisander. The larch wood is mirror cut so you can see the grains in the wood. I wanted a simple pattern on the outer sides of the figure.
Techniques:
The templates for the bottom were made first. When the bottom was finished, I made templates for the sides, and then finally the top. All joining planed after templates. The gluing required more templates. The sharp angles were held by small metal clips, which gripped a groove.
Challenges:
The planing of the edges was a great professional challenge. The precision is very exciting and very time demanding. The hinges were a decisive detail, they were not to be allowed to take power over the wood, and it was important to emphasize the qualities of the different materials. The metal makes the opening appear slim and light like the dimensions of the sides. The brass has been oxidized as a contrast to the light tone of the larch wood. The design has undergone several changes, even in the middle of the process changes have been made and parts changed.
Why have you made it?
Inside the box there are small boxes containing spices and memories. The minor boxes will symbolically express future opportunities, while some of them will show memories of the past. Herbs and memories react with each other.
Time spent:
280 hours.
-----------------------------------------------------
My Precious Herbs
"Formgivningen har undergået flere forandringer, selv midt i processen er der lavet ændringer og delelementer ændret"
Materialer:
Serbisk lærketræ og Rio Palisander. Lærketræet er spejlskåret, så man ser træets åretegning. Jeg ønskede en enkel tegning på figurens ydersider.
Teknikker:
Skabelonerne til bundpladen er lavet først. Da bundpladen var færdig, lavede jeg skabeloner til siderne, og til sidst toppen. Alle samlinger er høvlet efter skabeloner. Limningen krævede yderligere skabeloner. De spidse vinkler blev holdt af små stålklemmer, der havde fat i en rille.
Udfordringer:
Kanthøvlingen var en stor faglig udfordring. Præcisionen er meget spændende og enormt tidkrævende. Hængslerne var en afgørende detalje, de måtte ikke tage magten over træet, og det var vigtigt at fremhæve de forskellige materialers egenskaber. Metallet gør, at åbningen fremstår spinkel og let, ligesom dimensioneringen af siderne. Messingen er oxyderet som kontrast til lærketræets lyse tone. Formgivningen har undergået flere forandringer, selv midt i processen er der lavet ændringer og delelementer ændret.
Hvorfor har du lavet den?
Æsken kan aflæses på flere måder, men dens mål er at vise diversitet. Inden i æsken er der små æsker, som indeholder krydderier og minder. De små æsker vil på symbolsk vis udtrykke både fremtidige muligheder og minder om fortiden. Krydderier og minder reagerer på hinanden.
Tidsforbrug:
280 timer