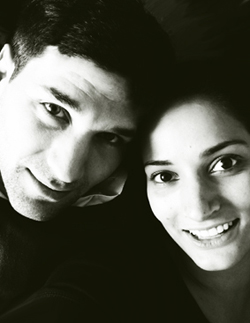 Lilian de Souza and Martin Altwegg (SWE)
My Precious Companion


"Time spent: 125 hours... And a lifetime to collect precious memories..."
Materials:
Pear wood/leather
Techniques:
The cold moulded side walls are made of solid pear wood. Inside the box the side walls are covered with leather which forms into handholds on two sides.

Biggest challenge:
During the design process it was a challenge for us to define a shape, which on one hand fulfils our personal needs and offers a place to store our personal memories, and on the other hand also suits other people's memories even though they are different from ours.
Why did you make your piece?
We wanted to create an object that could accommodate our personal precious things which are important to us. This object should be able to be used every day or whenever we feel we need to be in contact with our memories…
Time spend:
Design: 25 hours
Development: 20 hours
Manufacturing: 80 hours
And a lifetime to collect precious memories...
-----------------------------------------------------------------
My Precious Companion
"Tidsforbrug: 125 timer... Og et liv til at samle vores kæreste minder... "
Materialer:
Pæretræ og læder
Teknikker:
De formpressede sider er fremstillet af massivt pæretræ. Indvendigt er siderne beklædt med læder, som danner håndtag i begge sider.

Udfordringer:
Under designprocessen var det er udfordring for os at finde en form, som på den ene side opfyldte vores personlige krav til at opbevare vores egne minder, og på den anden side også kunne rumme andre menneskers minder, selvom de er forskellige fra vore.
Hvorfor har du lavet den?
Vi ville skabe et objekt, der kunne rumme vores kæreste personlige ejendele, som betyder noget for os. Objektet skulle kunne bruges til hverdag eller når som helst vi har behov for at være i kontakt med vores minder…
Tidsforbrug:
Design: 25 timer
Udvikling: 20 timer
Produktion: 80 timer
Og et liv til at samle vores kæreste minder...