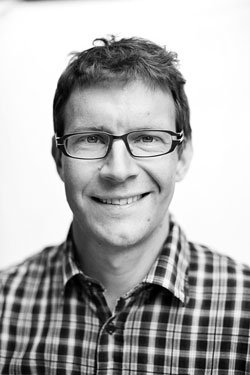 Rasmus Fenhann
My Precious Data


"I had to go on a study trip to Paris to study the great masters of Art Deco, visit workshops and purchase the rare materials"
Materials
Untreated Galuchat shagreen of the sort Dasyatis sephen, white mother-of-pearl, solid ebony, 1 NAS server with 2 x 1 TB 3,5" hard disks and 2 80mm 14 db fans.
Techniques
Preparation of Galuchat shagreen, moulding and mother-of-pearl inlay.
Challenges
The Galuchat has been the greatest challenge as it is an entirely new technique to me, which does not at all resemble cabinetmaking. I had to go on a study trip to Paris to study the great masters of Art Deco, visit workshops and purchase the rare materials. In the workshop I have spent several months experimenting with the technique. The moulding technique I used was also a new technique to me, but it went better than thought with expert help from other members of the union. Adapting the technique to the box also took a great amount of work. I have primarily used 3D computer drawings to calculate the size of the box and make it fit the size of the server and the shagreen, which is only available in one size.
Why have you made it?
I have buildt a box for a Computer server because I am fascinated by the carpentry tradition of using the newest technology in contemporary carpentry, as has been practised since the first technological advances were invented. Apart from this it was a good project to use to experiment with the Galuchat technique.
Time spent
Around 200 hours.
------------------------------------------------------------
My Precious Data


"Jeg måtte tage på en studietur til Paris for at studere de store Art Deco-mestre, besøge værksteder og indkøbe de sjældne materialer "
Materialer
Ugarvede Galuchat-rokkeskind af arten Dasyatis sephen, hvid perlemor, massiv ibenholt, 1 stk. NAS server med 2 x 1 TB 3,5" harddiske og 2 stk. 80mm 14 db blæsere.
Teknikker
Præparering af Galuchat-rokkeskind, formspænd med trækbånd og perlemorsindlægning.
Udfordringer
Galuchat har været den største udfordring, da det er en helt ny teknik for mig, der slet ikke ligner snedkerarbejde. Jeg måtte tage på en studietur til Paris for at studere de store Art Deco-mestre, besøge værksteder og indkøbe de sjældne materialer. På værkstedet har jeg brugt flere måneder på at eksperimentere med teknikken. Formspænd med trækbånd var også en ny teknik for mig, men det gik over al forventning med kyndig hjælp fra andre medlemmer af foreningen. Der har også ligget et stort arbejde i at få indpasset teknikken i skrinet. Jeg har primært brugt 3D-computertegninger for at beregne størrelsen på skrinet og få den til at passe med størrelsen på serveren og rokkeskindene, som jo kun fås i en størrelse.
Hvorfor har du lavet den?
Jeg har lavet en beholder til en computer server, da jeg er fascineret af snedkertraditionen med at pakke den sidste nye teknologi ind i tidssvarende snedkeri, som man har praktiseret siden de første teknologiske landvindinger blev opfundet. Derudover var det et godt projekt at bruge til at eksperimentere med Galuchat-teknikken.
Tidsforbrug
Ca. 200 timer.