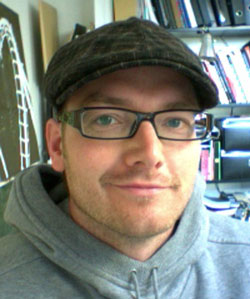 Rasmus Holten
My Precious Music

Materials
Danish elm from Aarhus, ebony, maple, elm root veneer and ebony veneer. The headphone unit is Grado Alessandro ms1, the amplifier unit has been donated by Bang & Olufsen ICEpower a/s, bass and treble units are from Scanspeak. The development of the separation filters and the combination of amplifier, units and separation filters, as well as sound optimization have been carried out by acoustics engineer Allan Hyldahl.
Techniques
The braces on the headphones are moulded and "the cups" have been made with a Japanese circle cutter. The inside bass reflex tube has been turned from the cross-cut end of the timber. The drawers have handmade dovetails and a solid bottom. The drawer fronts are solid elm veneered with ebony and elm. The speakers are solid wood for the sound quality. The speaker fronts have been varnished many times with thin coats. The rest has been oiled with German organic oil.
Challenges
Many rules had to be followed to achieve the optimal sound. The headphones are simple, but I had to make 8-9 braces before I found the right shape for my head. Making them light and bendable without them losing their strength was difficult.
Why have you made it?
Music is very important to me and we don't have much space. When you are fond of music and wood, it is hard to look at black and aluminium stereos.
Time spent
Around 250 hours.
-------------------------------------------------------------
My Precious Music

Materialer
Dansk elm fra Århus, ibenholt, ahorn, elmefiner, elmerodfiner og ibenholtfiner. Høretelefonenheder er Grado Alessandro ms1, forstærkerenheden er doneret af Bang & Olufsen ICEpower a/s, bas og diskantenheder er fra Scanspeak. Udvikling af delefiltre og sammensætning af forstærker, enheder og delefiltre, samt optimering af lyd er foretaget af akustikingeniør Allan Hyldahl.
Teknikker
Høretelefonernes bøjle er formspændt og "kopperne" er lavet med en japansk cirkelskærer. Det indvendige basrefleksrør er drejet af endetræ. Skufferne er håndsinket og med massiv bund. Skuffeforstykkerne er massiv elm fineret med ibenholt og elm. Højttalerne er i massivt træ af hensyn til lydkvaliteten. Højttalerfronterne er lakeret tyndt op af mange gange. Resten er olieret med tysk bio-olie.
Udfordringer
Der har været mange regler, der har skullet følges ad for at opnå den optimale lyd. Høretelefonerne er simple, men jeg måtte lave 8-9 bøjler, før jeg fandt den rette form til mit hoved. Det var svært at lave dem lette og bøjelige, uden at de mistede deres styrke.
Hvorfor har du lavet den?
Musikken betyder meget for mig, og vi lever uden meget plads. Når man nu holder af musik og træ, så er det svært at kigge på sorte og aluminiumsfarvede anlæg.
Tidsforbrug
Ca. 250 timer.