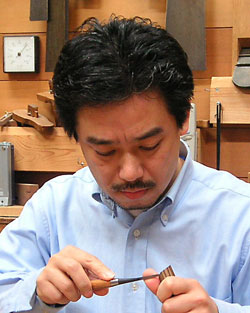 SUDA Kenji (JP)
My Precious Boxes
'Hyakka' (Hundred Flowers)

Materials
The boxes and the lid are French flamed white maple, the base is ziricote from Latin America, the lipping is Japanese black Sharon wood, the decorative seam is 14 carat gold, lock fittings and flowers in 950 sterling silver.
Techniques
Traditional old Japanese hand cabinetmaking techniques. I am faithful to the techniques and the inheritance that my father and grandfather left me. And I carefully continue their work. The lid is intarsia work. The surface treatment is twenty layers of urushi, a traditional Japanese varnish made from plant extractions. The white boxes are oiled. I also made the decorative seam and lock fittings.
Challenges
Making unique pieces is always a challenge. The material is exquisite and valuable; there is no room for making extra parts, mistakes or changes. The shape is always new and to gather the essence and make beautiful unique works is a perennial theme. All parts are equally important, and both the construction and the small parts have been a challenge. This piece had to have a supple shape and functionality.
Why have you made it?
The Japanese have always had a deep interest in boxes, and I still like making boxes. Ordinary boxes are a case with a lid; this box is on a base with a case as a lid. The box is called Hyakka – 100 flowers – after the small decorative gold flowers on the lid. It is a traditional Japanese aesthetic, just like painting and sculpture are in the West.
Time spent
2 months, cutting and preparation 1 year.

----------------------------------------------------------------
My Precious Boxes
'Hyakka' (Hundred Flowers)

Materiale
Æskerne og låget er fransk flammet hvid ahorn, basen er ziricote fra Latinamerika, kantliste i japansk sort sharon træ, dekorationssøm i 14 karat guld, låsebeslag og blomster i 950 sterling sølv.
Teknikker
Traditionel gammel japansk håndsnedkerteknik. Jeg er tro mod de teknikker og den arv, jeg har fået fra min far og bedstefar. Og forsætter arbejdet forsigtigt. Låget er intarsiaarbejde. Overfladebehandlingen er tyve lag urushi, en traditionel japansk lak af planteudtræk. De hvide æsker er oliebehandlede. Pyntesøm og låsebeslag har jeg også lavet.
Udfordringer
Unikaværker er altid en udfordring. Materialet er udsøgt og værdifuldt, man kan ikke bare lave ekstra dele, eller fejl og ændringer. Formen er altid ny og at samle essensen og lave smukke unikaværker, er et evigt tema. Alle dele er lige vigtige, og både konstruktionen og de små dele har været en udfordring. Dette værk skulle have en spændstig form og funktionalitet.
Hvorfor har du lavet den?
Japanere har altid haft en dyb interesse for æsker, og jeg kan stadigvæk lide at lave æsker. Almindelige æsker er en kasse med låg, denne æske står på en base med en kasse over som låg. Æsken hedder Hyakka - 100 Blomster - efter de små pynte-guldblomster på låget. Det er japansk skønhedstradition, ligesom kunstmaleri og skulptur er i Vesten.
Tidsforbrug
2 måneder, opskæring og forberedelser 1 år