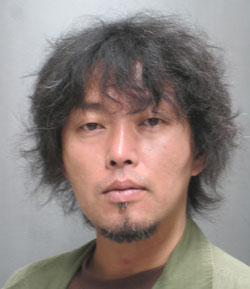 Takehito Nakajima (JP)
My Precious Sake Cups/My Precious Process
Materials:
Beakers in elm, Japanese maple, horse chestnut, birch and Japanese cherry. Container in horse chestnut and stand made from elm.
Techniques
Woodturning.
Challenges
Making the edges of the cups thin, because that is where the lips touch. I am a wood turner, so I have challenged myself by working as much as possible with turning techniques; this is why the container is also turned.
Why have you made it?
One of my friends brews sake and he told me that the taste changes with the shape of the cups. I wanted to make sake cups, which have the best shape for drinking sake from. After many tests we have found out that the best form actually is the old classic shape for a sake cup. Through the process of turning the different kinds of sake cups I have rediscovered the Japanese traditions. My friendship with the sake brewer has given me the chance of making these cups. And together we have enjoyed finding the best shape for his sake and my cups. It is my precious process.
Time spent
3 months.
----------------------------------------------------------------
My Precious Sake Cups/My Precious Process

Materialer:
Bægre i elm, morbær, japansk ahorn, hestekastanie, birk og japansk kirsebær. Beholder i hestekastanie og fod i elm.
Teknikker
Trædrejning
Udfordringer
At gøre bægrenes kant tynd, fordi det er den, man berører med læberne. Jeg er trædrejer, så jeg har udfordret mig selv ved at arbejde så meget så muligt med drejeteknik, beholderen er derfor også drejet.
Hvorfor har du lavet den?
En af mine venner brygger sake, og han har fortalt mig, at smagen ændrer sig afhængig af bægrets form. Jeg ville lave sakebægre, der har den bedste form til at drikke sake af. Efter mange prøver har vi fundet ud af, at den bedste form faktisk er den gamle klassiske form for et sakebæger.
Gennem processen med at dreje de forskellige former for sakebægre, har jeg genopdaget de japanske traditioner. Mit venskab med sakebryggeren har givet mig chancen for at lave disse bægre. Og vi har sammen nydt at finde den bedste form til hans sake og mine bægere. Det er My Precious proces.
Tidsforbrug
3 måneder