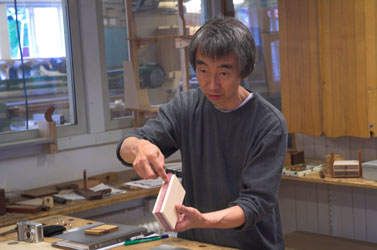 Norio Tanno (JP)
My Precious Heart

Materials
The outside box is made from American walnut with hinges and lock in padauk and Brazilian rosewood. The middle box is Canadian white maple. The double pyramid is in Kuro Kaki. The spire is in Acer Mono. Oak, paduak and Brazilian rosewood have been used on the inside.
Techniques
I have made the box with traditional Japanese cabinetmaking techniques; however, I have made almost everything with machines. I use the router a lot. It is precise, and it cuts well in the wood both with and against the grain. But the sprout is handmade. It took time, but I like it.
Challenges
I had an image in my head with a box, which comes out of another box and "clicks" with a "snap" sound. And when you push in the lock, the air pressure holds it, so it glides slowly down of its own accord. I wanted to make that too. If I could have made it more precise, the box would slide down more slowly. I can still get better.
Why have you made it?
Recently I have been thinking about how our hearts are not open until we open our hearts ourselves. (How you open the heart hidden within the heart cannot be seen from the outside.) But to open up entirely you need help. The Kuro Kaki is black, but a deep black colour, not shallow like Japanese calligraphy ink, that is why it was good to use it for the heart.
Time spent
400 hours.
---------------------------------------------------------------
My Precious Heart

Materialer
Den yderste æske er i amerikansk valnød med hængsler og lås i padauk og palisander. Den mellemste æske er i canadisk hvid ahorn. Den dobbelte pyramide er i Kuro Kaki. Spiren er i acer mono. Indeni er der anvendt bøg, padauk og palisander
Teknikker
Jeg har lavet æsken med traditionelle japanske snedkerteknikker, dog har jeg lavet næsten alt med maskiner. Jeg bruger overfræser meget. Den er præcis, og den skærer træet godt både i mod- og medvækst. Spiren er dog lavet i hånden. Det tog tid, men jeg kan godt lide den.
Udfordringer
Jeg havde et billede i hovedet med en æske, der kommer op af en anden æske og går i hak med en "snap" lyd. Og når man trykker låsen ind, holder lufttrykket den, så den glider langsomt ned af sig selv igen. Det ville jeg gerne lave i virkeligheden. Hvis jeg kunne have lavet det mere præcist, skulle æsken glide langsommere ned. Jeg kan stadigvæk blive bedre.
Hvorfor har du lavet den?
I den seneste tid har jeg tænkt på, at vores hjerter er ikke åbne, før vi selv åbner vores hjerter.
(hvordan man åbner hjertet, som er gemt inden i hjertet, kan man ikke se udefra.) Men for at åbne helt skal man have hjælp. Kuro Kaki er sort, men en dyb sort farve, ikke overfladisk ligesom japansk kalligrafiblæk, derfor er det godt at bruge til hjertet.
Tidsforbrug
400 timer.