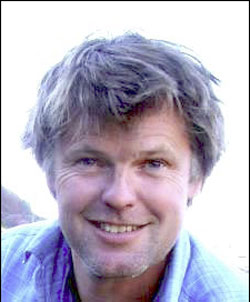 Teis Dich Abrahamsen
My Precious Balls

Materials
Ash wood has been used for the wall part and wooden springs hold the boxes. Monday is European cherry, Tuesday is oak, Wednesday is mahogany, Thursday is Oregon pine, Friday is Rio Brazilian rosewood, Saturday is olivewood and Sunday is pear wood. Ebony from the family's old piano has been used for circular joints and covers in boxes. Olivewood and magnet has been used for the opening function of the ball drawer.
Techniques
Turning techniques, routing on the stationary router, a bit of drawer running etc.
Challenges
The challenge was keeping down the amount of time spent and not letting the techniques carry me away. I have striven to get a simple expression with my wall hung boxes, and still it has become a thing, which grows with the touch and through use. There is room to explore and find fun details and input for inspiration and wonderment.
Why have you made it?
To me it is a natural extension of my earlier productions, where the ball has been the turning point in my carpentry. I am very fascinated by round objects. It is an unpredictable object; it is fun to tame it and use it as an entertaining and fun part of the machine mechanical furniture carpentry that my heart burns for these years.
Time spent
Around 100 hours.
------------------------------------------------------------
My Precious Balls

Materialer
Der er anvendt asketræ til vægdelen og træfjedre til at holde æsker ophængt. Mandag er europæisk kirsebær, tirsdag er egetræ, onsdag er mahogni, torsdag er Oregon pine, fredag er Rio palisander, lørdag er oliventræ og søndag er pæretræ. Der er anvendt ibenholt fra familiens gamle piano til holdecirkler og dækstykker inden i æsker. Der er anvendt oliventræ og magnet til åbnefunktion til kugleskuffe.
Teknikker
Drejeteknikker, fræseopstillinger på den stationære overfræser, lidt skuffegang m.m.
Udfordringer
Udfordringen var at holde timeforbruget nede og ikke lade teknikkerne løbe af med mig. Jeg har bestræbt mig på at få et enkelt udtryk frem med mine væghængte æsker, og dog er det blevet en ting, der vokser ved berøring og ved brug. Der er plads til at gå på opdagelse og finde sjove detaljer og input til inspiration og forundring.
Hvorfor har du lavet den?
For mig er det en naturlig forlængelse af mine tidligere produktioner, hvor kuglen har været omdrejningspunktet i mit møbelsnedkeri. Jeg har en stor fascination af det runde legeme. Det er en uforudsigelig størrelse, som er spændende at få tæmmet og anvende som en underholdende og sjov del af det maskimekaniske møbelsnedkeri, som mit hjerte brænder for i disse år.
Tidsforbrug
Ca. 100 timer