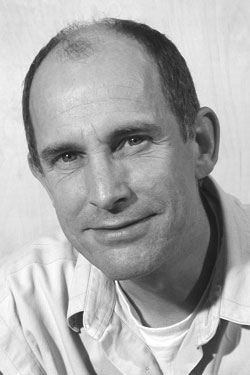 Thomas Hoyrup
My Precious Power of Love/Our Precious Globe
Materials:
The crust of the earth is made from three pieces of 0.3 mm "flyer"-plywood, cut out like an orange peel and glued together while pressed together as a half-globe. For the intarsia work I have used mirror cut maple veneer for the blue seas and maple burr veneer for the land areas. The inside stalactite forms are balsa wood. Apart from this a bit of computer technique and a lot of love.
Techniques/3 Challenges:
It has been a challenge making the two semi-globes in a mould. But with a half moon shaped concrete block from The Technological Institute it worked. It has also been challenging to produce a globe from intarsia, as I have never done any before except small repairs with veneer. It was an invaluable support to me to talk to Andreas Nellemann from Intarsia in Ringe, he gave me courage with the words: "In for a penny, in for a pound."

Why have you made it?
In the summer of 2008 I stumbled upon a local reggae festival in Malaga, where a local band was playing "One Love, One Heart" by Bob Marley. I got to thinking about a Caribbean philosophy I came across earlier: We are all connected in a shared fate here on our wonderful little planet. And we all have to do our best that life as we know and love it can continue…

Time spent:
Estimate: 300 hours of practical work. (As well as endless wonderful and delightful conversations which this amazing project has generated so far.)

--------------------------------------------------------------
My Precious Power of Love/Our Precious Globe

Materialer:
Jordskorpen er lavet af tre stk. 0,3 mm "flyver"-krydsfiner, skåret ud som en appelsinskal og limet sammen i spænd som en halvkugle. Til intarsia-arbejdet er anvendt spejlskåret ahornfiner til de blå have og ahorn maserfiner til landområderne. De indvendige stalaktitformer er balsatræ. Herudover lidt computerteknik og en masse kærlighed.

Teknikker/3 Udfordringer:
Det har været en stor udfordring at fremstille de to halvkugler i formspænd. Men med en halvkugleformet betonklods fra Teknologisk Institut gik det. Og ligeledes har det været grænseoverskridende at skulle fremstille en globus i intarsia, da jeg aldrig tidligere har lavet andet end små reparationer med finér. Det var mig til uvurderlig støtte at tale med Andreas Nellemann fra Intarsia i Ringe, han indgød mig mod med ordene: "Har man sagt "A" må man også sige "B"".

Hvorfor har du lavet den?
I Malaga i sommeren 2008 stødte jeg på en lokal reggae-festival, hvor et lokalt band spillede "One Love, One Heart" af Bob Marley. Jeg kom til at tænke på en caribisk filosofi, jeg lærte at kende tidligere: Vi er alle forbundne i en fælles skæbne her på vores lille vidunderlige planet. Og vi skal alle yde vores bedste til at livet, som vi kender det og holder af, kan fortsætte.

Tidsforbrug:
Anslået: 300 timer praktisk arbejde. (Udover de endeløse skønne og dejlige samtaler, som dette fantastiske projekt har afstedkommet indtil nu).