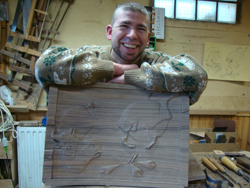 Didier Demé (FR)
My Precious "Le petite Prince"
"Through four woods, I'm going to propose to you a trip with the Little Prince"
Materials:
The amarelo, for its "fantasy" color (yellow).
The padouk, also initially a fantasy (orange), but which turns to a softer and darker color with maturity.
The wenge, to symbolize the somber side of the tale.
The sycamore (white wood), by contrast, to symbolize hope.
Techniques:
I intend to use different techniques:
Sculpturing
Inlaying
Lamellating-gluing
Saint Exupery's children's tale
Summary
"The author, an aviator, crashes in the middle of the Sahara desert. While he is trying to repair his plane, a little boy appears before him and asks him to draw a sheep. The author also learns that this "Little Prince" comes from the asteroid B 612, where he left behind three volcanoes and a rose.
Before coming to Earth, he visited other planets and met some strange people: a king, a conceited person, a drinker, a lamp lighter, a surveyor… On Earth, he was able to talk with a fox, who taught him that one can know someone only by taming him and that this makes men and things unique. He says, "The essential is invisible to the eye".
To return to his rose, the Little Prince gets himself bitten by a poisonous snake and sets out for his home: it's too far; he can't take his "skin" with him. The aviator, who repaired his plane, also leaves the desert. He still hopes that the Little Prince will return, and asks us to let him know if we ever meet him."
--------------------------------------------------------------
My Precious The Little Prince


"Jeg vil gerne invitere dig på en tur med Den lille Prins"
Materialer:
Amarelo for dens 'fantasi'-farve (gul).
Paduak, en fantasi (orange), som bliver blødere og mørkere med alderen.
Wenge symboliserer den mørke side af eventyret.
Valbirken (hvidt træ) som kontrast, symboliserer håb.
Teknikker:
Billedskærerarbejde
Indlagt arbejde
Laminering
"Den lille Prins", Saint Exupérys eventyr
Resume
"Forfatteren, en pilot, styrter ned midt i Sahara ørkenen. Mens han prøver at reparere sit fly, står der pludselig en lille dreng foran ham, som beder ham om at tegne et får. Forfatteren finder også ud af at denne 'lille Prins' kommer fra asteroide B612, hvor han efterlod sig tre vulkaner og en rose.
Før han kom til jorden, besøgte han andre planeter og mødte nogle underlige mennesker: En konge, a forfængelig person, en dranker, en lampetænder, en besigtigelsesmand… På Jorden kunne han snakke med en ræv, som lærte ham, at man kun kan lære nogle at kende ved at tæmme dem, og at dette gør mænd og ting unikke. Han siger, 'Det essentielle er usynligt for øjet'.
For at komme tilbage til sin rose, lader Den lille Prins en giftig slange bide ham og tager hjem: Der er for langt, han kan ikke tage sin 'hud' med sig. Piloten, som har repareret sit fly, forlader også ørkenen. Han håber stadig, at Den lille Prins vender tilbage og beder os om at fortælle ham det, hvis vi skulle møde ham."