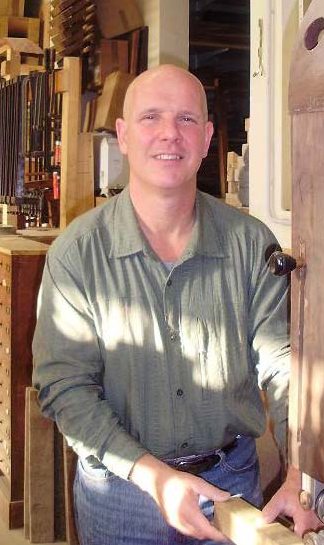 Joël Philippin-Stefansen (FR)
My Precious Mariners Treasure


"As a child my grandfather's stories filled me with wonder and in my dreams I have navigated all the seas of the globe"
Materials:
Solid woods and veneers: ebony from Gabon and Makassar, rosewood, mahogany, yellow satinwood from Ceylon, burr from Burma, burr ash, grey and black tinted sycamore
Metals: pewter, brass
Mother of pearl
Painted or decorated polycarbonate
Rock crystal from India
Piece of crystal

Techniques:
- Cabinetry, marquetry, inlay, veneer, engraving
- Polish and varnish

Biggest challenges:
Cut, profiled and inlaid mouldings on old pieces of ebony aged more than 120 years, extremely dry and brittle, very difficult to plane correctly without tears, impossible to pass on the moulder and impossible to handplane. Marquetry inlaid on decorated polycarbonate.

Why did you make your piece?
Mariners and the sea hold a special place in my family. An ancestor of my father was a Danish sailor. My mother comes from a long line of captains of the Compagnie des Messageries Maritimes. As a child, my grandfather's stories filled me with wonder and I have in my dreams navigated all the seas of the globe.

Before the Second World War, my grandparents' house in Dunkerque was like a living museum filled with the many precious souvenirs that my sea-faring ancestors brought home. In 1940, the house was occupied by enemy soldiers and its contents emptied. The treasures of my ancestors were lost forever.

My precious "Mariners' Treasure" is symbolized by a small block of crystal that sits on an inlayed ebony base. The "treasure chest" is decorated with marquetry motifs representing the emblem of the Compagnie des Messageries Maritimes and some of its ports of call. It is made with woods coming from these countries.
Time spent:
About 160 hours.

------------------------------------------------------------
My Precious Mariners Treasure


"Da jeg var barn fyldte min bedstefars historier mig med undren, og i mine drømme har jeg navigeret på alle verdens have"
Materialer
Massivt træ og finer: ibenholt fra Gabon og Makassar, rosentræ, mahogni, gult satinwood fra Ceylon, maser fra Burma, maser ask, grå og sort-tonet morbærtræ
Metal: tin, messing
Perlemor
Malet eller dekoreret polycarbonat
Bjergkrystal fra Indien
Et stykke krystal

Teknikker
- Snedkerarbejde, intarsia, indlæg, finering, gravering
- Polering og lak

Største udfordringer:
Skæring, profilering og ilægning i mere end 120 år gammelt ibenholt, meget tørt og skørt. Meget vanskeligt at høvle rigtigt uden tårer, umuligt at bruge på afretteren og umuligt at høvl i hånden. Intarsia på dekoreret polycarbonat.
Hvorfor:
Sejlere og havet har en særlig rolle i min familie. En af min fars forfædre var en dansk sømand; min mor var datter af en kaptajn fra Companie des Messageries Maritimes. Da jeg var barn fyldte min bedstefars historier mig med undren, og i mine drømme har jeg navigeret alle verdens have.
Mine bedsteforældres hus var fyldt med de mange kære souvenirs som mine søfarende forfædre bragte med hjem, men i 1940 blev huset besat af fjenden og tømt, mine forfædres skatte var tabt for evigt. Min Kæreste "skattekiste" fortæller historien om min familie og er dekoreret med indlagt arbejde, som repræsenterer livet på havet.
Tidsforbrug:
omkring 160 timer